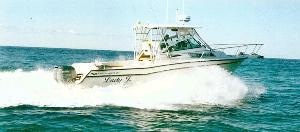 Captain Tom has been fishing the waters around Montauk since 1982. He has always enjoyed fishing and being out on the water!

Tom began fishing as a child with his father on party boats and was hooked instantly. He purchased his first boat as a young adult and came out to Montauk, fishing at every opportunity. Tom always enjoyed catching fish and then selling it both to the Fulton Fish Market and directly to restaurants. Over the years, he has discovered hundreds of spots for all types of fishing. When the opportunity presented itself, Tom decided to become a full- time charter captain. Tom is enjoying being a captain and sharing his love of fishing, the ocean and Montauk with others. He is always willing to go the extra mile for his customers.

Janice (mate on the Lady J) was first introduced to Montauk, boating and fishing by Tom in the early 80s. She loved all of it from the start! When she is not fishing, Jan is a middle school teacher with 33 years of experience teaching children from pre-K on up. She is very patient teaching beginners of all ages to handle a rod, and hook and land fish.

Our boat, the Lady J is a 30 foot Grady-White Marlin. It has a pair of 4-stroke Yamaha 225 outboards. The boat has a true cruising speed of 25 knots to get you to the fishing grounds fast. The engines are very quiet and there are no diesel fumes to deal with. The cockpit is roomy with plenty of elbow room for 1 to 4 passengers. The Lady J has a full head. The boat is equipped with state of the art electronics and safety equipment.

The Lady J is located at Snug Harbor Hotel and Marina in Montauk, NY.